What's GEIR?
GEIR (Groupement Européen de l'Industrie de la Régénération) is the European Re-refining Industry Section of UEIL.
GEIR's offices are located in Brussels, from where it can easily communicate and exchange information with the official European bodies (Commission, Council and Parliament).
GEIR member companies are active throughout Europe in supporting the collection of used lubricants and re-refining these back into valuable base oils for the formulation of lubricants.
Vision
GEIR defends the interests of the re-refining industry and promotes a sound exchange of information on quantities of waste oils produced and types of renewed products offered by its member companies. For this reason, permanent contacts are maintained with the official European bodies as well as with all private and public organisations that are showing interest in the very actual and crucial issue of waste oil.
Used mineral lubricating oils represent the largest amount of liquid, non-aqueous hazardous waste in the world. Across the globe there are over a billion vehicles on our roads – that is more than 20 billion kilograms of engine oil being used which translates into a lot of oil to dispose of every year. Moreover, 20 billion kilograms of oil is being used each year in different industrial processes – for instance as hydraulic oils or machinery lubricants.
Collection of used lubricants and their re-refining represents a true example of the circular economy at work, as re-refined oils are used again for the formulation of lubricants, since re-refining turns the waste oil back into virgin oil. This helps reducing fossil fuel consumption and CO2 emissions.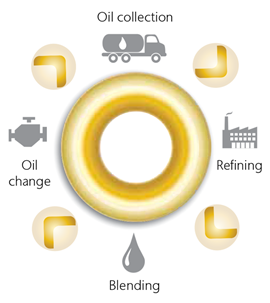 What we do
Position papers
GEIR position paper on the Waste Framework Directive revision – June 2016
GEIR response to the public consultation on the modernisation of European public procurement rules – May 2011
"Clean, Clever and Competitive: why the recycling of waste oils must remain an EU policy priority" – May 2008
"The need for a recycling definition in the Waste framework Directive" – Dec 2005
"An Environmental Review of Waste Oils Regeneration" – Nov 2004
Other documents
Final Report Summary: Updated LCA for regeneration waste oil to base oil – July 2022
SUMMARY: Ecological and energetic assessment of re-refining waste oils to base oils: Substitution of primarily produced base oils including semi-synthetic and synthetic compounds – August 2018
Revised Waste Framework Directive, 2008/98/EC – Nov 2008
GEIR in Brussels: EU activities – Oct 2008
Okopol Paper; "Increasing world market prices- driver for high level recycling!? – May 2008
"Questionnaire on used oil collection and utilization in 2006" – Feb 2008
GEIR Case Study for Greece – Dec 2007
Life Cycle Assessment for Waste Lube Oils – Sept 2005
"Ecological and energetic assessment of re-refining used oils to base oils: Substitution of primarily produced base oils including semi-synthetic and synthetic compounds" LCA study, Ifeu Institute Heidelberg (Germany) – Feb 2005