Go back
2020 – the year of new green resolutions!
29/01/2020
Dr. Christian Hartmann's article "2020 – the year of new green resolutions!" is featured in the Lube Magazine, Issue 155, February 2020 edition.
"Many see the new year as an occasion to start afresh while taking good resolutions. The new European Commission seems to be adopting a similar stance, embracing 2020 with a charged climate- and environment-oriented agenda! After a long year of 2019 entirely focused on the institutional reshuffle, filled with European Parliament elections, Commissioners' appointments and dragging on hearings, the new Commission eventually entered office in December 2019. And it did with a bang, presenting only a few days later its new 'Green Deal'– the EU growth strategy marking the convergence of traditionally antagonistic interests: economic growth and environmental and climate protection. Throughout the upcoming months and years, the Green Deal rationale will infuse all new EU initiatives. This will notably be the case for the future Circular Economy Action Plan (CEAP) to be released jointly with a new Industrial Strategy early March 2020." 
Read the full article below: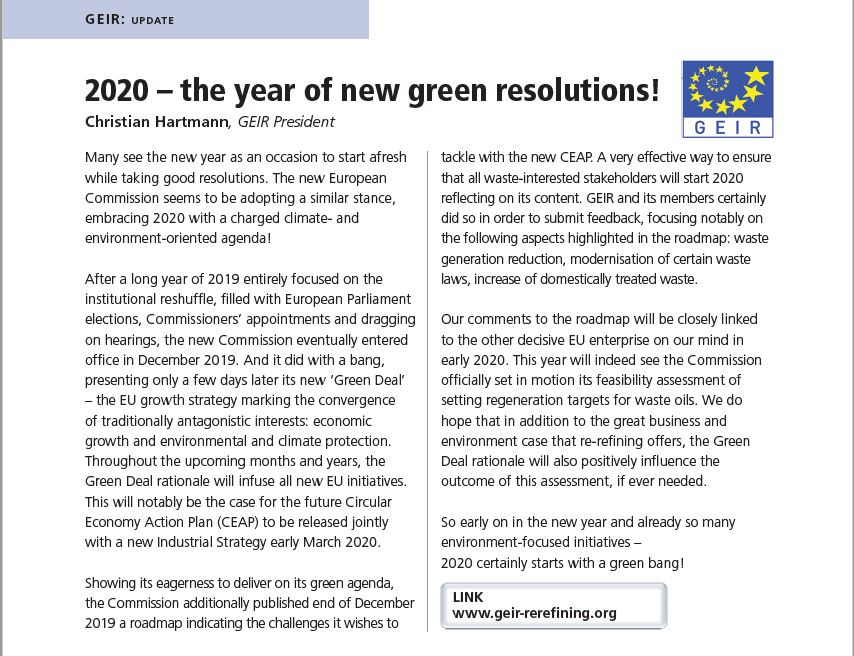 This article can also be read in the February 2020 edition of Lube Magazine available online.